A whole new "project"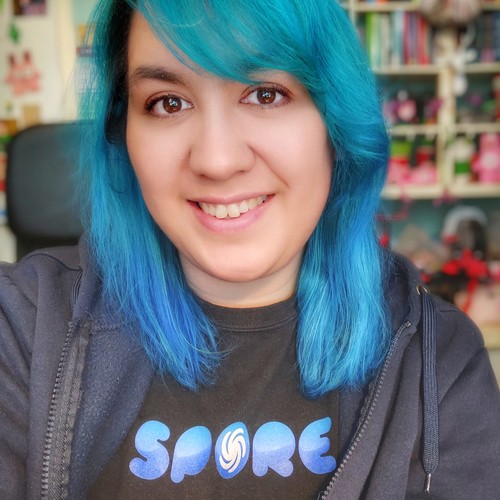 I'm a Dutch designer and artist. I run 2 Etsy shops. On Rosana Kooymans: Art & Design I mostly sell Freezer Bunny plushies and hand drawn illustrations. And on Retro Hugs I sell planner and craft supplies.
I'm crazy about my Filofax and Carpe Diem planners, and I also create custom inserts and stickers for planners.
In my spare time you can find me gaming/creating on SNW. I stream twice a week on Twitch.
I love my geeky hubby and our 3 creative, geeky sons!
On this blog you can find some of my crafty projects (including handmade cards), illustrations, design projects, photography, family life and my health journey. I record the occasional video too, and plan on recording more crafty and planning videos soon. So keep an eye on my blog.
Monday, April 23, 2007 - 17:10
I've been busy for months now. I kind of neglected this blog (and portfolio) because of many other activities. You might have read my previous blog post about me going back studying. Even though I literally dreamed of going back studying for years, I had no choice but to put it to an end in January 2007. I've always experienced asthma and other allergies. But it became even worse in November 2006. Along with my lungs, my nose became a breathing issue. It's constantly clogged and runny. It starts when I wake up. My nose itches crazily, making me insane the moment I wake up. Then I sneeze, because it's itchy. After the sneezing stops (which is a surprise each day, will I sneeze just once, will I sneeze 20 times?) it starts to run. All of that is annoying enough already. One other thing that is really frustrating... It is clogged 24 hours a day. I can't use my nose for anything. I have to stuff it with toilet paper and tissues every day because I can't get it to stop running. It also won't help to blow my nose. It drove me insane. It kept me from my activities. Like, for example, my study.
I frequently visited my doctor, hoping he could help me with my nose. Because of my nose, I also often experienced severe asthma attacks. I got new medication for the asthma, but nothing for my nose. After (I believe) 6 visits, a substitute doctor sent me to the hospital, to a specialist. But that was already in January. The E.N.T. specialist examined my throat and nose and decided that he wants to remove my tonsils first, before he wants to take a look at my nose. That's all very nice, but it takes months before one can get surgery and I did not have months of spare time. In fact, I still had a study which was not going too well because of my health issues. Imagine yourself having a cold. Not just any cold, but one where you either have to sneeze, blow your nose, have a runny nose and/or a clogged nose. Accompanied by some nice asthma attacks, several times a day. And besides that, you have a huge headache. Now how are you supposed to go to class each day like that? I was literally homebound. I could not eat properly, sleeping didn't really go well either. It only made my health so much worse than it already was.
Besides the E.N.T. specialist, I had to visit a respiratory specialist and a lung specialist. The reason I needed a respiratory specialist was because he needed to examine me to see whether I could go into surgery or not. It might be a risk because of my asthma. And so the E.N.T. specialist needed his approval. The respiratory specialist and lung specialist were also there for me to guide me before, during and after the surgery. At one of the examinations, I had to go behind a x-ray screen. The respiratory specialist first asked whether I was pregnant or not. I answered denying. Of course I wasn't pregnant. I was on birth control and I didn't plan for it either. I still had my study. I could not afford to throw that away.
I had no choice but to visit my dean at college/university, we talked about all of the issues that were standing in the way of my study. And after a long talk, we discovered that it would be better to quit for a year. So I could have surgeries and recover without the stress of missing classes and such. I was planning to start again in 2007/2008, for the class of 2011. I've been through hell with the administration of the college/university I attended. It seemed they never properly enrolled me into their program. So everything I received (scholarship, grants and loans) turned into one big loan I had to repay. But, because of an arrangement, I had to quit my study (and with that, my scholarship, grant and loan) before February 1st. I did. I received a confirmation and all. But because the college/university is really a huge mess, they never had me in their system at the time the scholarship giver checked the amount of students. I wasn't in that 'list' and for that reason, I have to pay everything back. So the college/university made several damaging mistakes which got me into a lot of (financial) problems too. I am not returning to that specific college/university. I do not wish to be treated like that ever again!
After a few examinations by both the respiratory and lung specialist, the respiratory specialist gave permission to the E.N.T. specialist. That was already in February. I could get surgery in April or later. Not any sooner. So within that period of time, I was supposed to support myself. But I no longer had a scholarship, grant or loan. I could not get a job (being sick and insufficiency). When you think about it, it really sucks. Because I could not go anywhere and was stuck, especially looking at my finances.
By the end of February, I did not get my period. Being in a stressful situation, I could understand me being 'late' for a few days. Then those days turned into a week. I felt nauseous every day, all day, not just in the morning. I blamed the nausea on becoming ill. There were also some other conditions that just screamed pregnancy. I just didn't recognize them right away. When my period didn't come, I did get worried. What if... What was I supposed to do? And how? I mean, I was on birth control. I have been for the past 8 years. It always worked properly, how could it not work now?
My sweetheart and me went to the drugstore, both extremely nervous. At first we couldn't find it. An employee asked us whether she could help. She must have seen us being frightened or something. I quietly asked for a pregnancy test. She nodded and showed me one. Any test was fine by me, just as long as I could get home and take the test.
At home, nervous enough, we talked about it. I was so nervous and waited. My roommates were not supposed to know anything. We decided that I would do the test on the lavatory and then return with the results to the bedroom. I did. I went to the lavatory, took the test and it was positive. I panicked. What was I supposed to do? I was not *AT ALL* ready for this. I planned this, at least 5 years later from now. Besides myself, what would my sweetheart say about this? He was also still a student. I didn't want him to give up on that. It's way too important. I panicked. Because I am against abortion. And I also do not wish to give my prodigy up for adoption. There's no way I would do either of those things.
I returned to the bedroom like I promised even though I was afraid the result of the test would scare him away. I don't know why but I just didn't expect him to be the least happy about it. He was waiting, kind of with a smile on his face, for me to tell him what the test result said. I almost started to cry and told him. Then he just got a big grin on his face. He was actually happy about it. I still panicked. It was a huge relief to see that he didn't plan on leaving me. Then again, I'm not sure why I even thought he would. He's the sweetest person I know.
We visited my doctor and brought some morning urine. The assistant tested the urine and it was confirmed. The test was right. It was positive. I was pregnant. I *thought* my period before that was on January 28. So the doctor told me my due date was on November 4. After a while, I got a bit more comfortable about the whole concept, the whole idea of being pregnant. We told my mom and my parents 'in law' that same week about us expecting a baby. My mom was a bit too enthusiast for me at that moment. I was busy processing everything and she was already looking at nurseries. The other parents were calm, not angry. Somehow I expected them to be just that. I don't know why. Probably just me being afraid.
With me being pregnant (and keeping 'it'), the surgery can't be performed for a while. I am not supposed to until after I give birth. That's not going to be for a while. So now I'm stuck in my 11m² dorm, packed with my belongings, no place for myself, let alone a baby. We've been searching for an apartment or home ever since we found out. But no one is willing to rent us a place. I myself don't have a job, as I recently quit my studies because of my bad health. My love is still a student (and I don't want him to stop, he should finish his study, which will take at least 2, perhaps 3 more years). Our parents are willing to help out financially. They are willing to even pay the rent for us, of course we would pay them instead. But again, not one company is willing to rent us anything. We have income, however it's not good enough because we don't make enough money each according to their weird terms. You have to imagine, my room is not even big enough for my own bed. How am I supposed to raise a baby on a dorm like this? I also can't return home to my mom. There isn't enough space. She only has one bedroom and it's not big enough. Not even temporary.
Let's just say. We're both very proud to be expecting. But financially it's hard. I know it will be even harder once the little one gets here, right now, we both pay for *expensive* separate dorm rooms because we can't find a place to live. We're really not picky. We're willing to move anywhere, just as long as we're allowed to. We both feel like this baby is something that has been conceived for a reason, that the baby is like a crown on our love for each other. I really do believe so, although it's unexpected. But even though we did not expect this, we're still very happy with 'it'.
If you would like to read more about my pregnancy, I have a pregnancy blog. But until now, it's Dutch only. I'm very sorry. It's just that the majority of my family and team/friends are Dutch (or Flemish) and to save time on instant messengers, having a blog about the pregnancy seemed a better idea. I might add a small English blog too, with the most important facts and photographs (ultrasound etc). For now, it's Dutch: