My all new blog!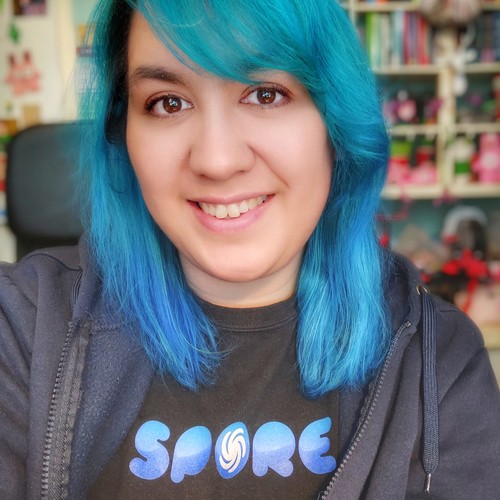 I'm a Dutch designer and artist. I run 2 Etsy shops. On Rosana Kooymans: Art & Design I mostly sell Freezer Bunny plushies and hand drawn illustrations. And on Retro Hugs I sell planner and craft supplies.
I'm crazy about my Filofax and Carpe Diem planners, and I also create custom inserts and stickers for planners.
In my spare time you can find me gaming/creating on SNW. I stream twice a week on Twitch.
I love my geeky hubby and our 3 creative, geeky sons!
On this blog you can find some of my crafty projects (including handmade cards), illustrations, design projects, photography, family life and my health journey. I record the occasional video too, and plan on recording more crafty and planning videos soon. So keep an eye on my blog.
Monday, May 21, 2007 - 16:14
In the spring of 2006, I designed a new layout for my blog/portfolio. I used to have my (personal) blog separate from my portfolio. I also had a fonts website, an art website (pixel art/vector) and even my cats had their own website. To save effort and time, I decided to merge everything into one bigger website. I will host my creations like fonts and artwork on my portfolio.
People who frequently visit my blog, might think, spring 2006? There was no new layout online during that period. That's true, I never uploaded my new website. I didn't think it was finished just yet when I left for Los Angeles in May 2006. The layout was almost done. It just didn't feel complete. I didn't know why, but it needed more work. I will add screenshots later, to show you the difference between then and now.
After I came back from Los Angeles, I had fallen in love with someone and my life turned literally upside down. I was forced to neglect some projects, at least for a while. My websites were taken down due to something my ex did and that was problematic enough for me to stop working on my portfolio for a while. I lost clients, I lost websites and I lost spare time. During a trip to San Francisco in July, my websites were down, when I needed them the most.
After having everything back up again, I could start working on my portfolio again. Only this time, I didn't have time to do so. I had a lot of websites that needed attention because of the downtime. In between I traveled to Leipzig (Germany) and after I returned, I got enrolled in a new study and that was reason enough not to work on my portfolio.
My study was all about design and also required a portfolio. Since I already had a portfolio, I 'only' needed to change it a little to suit my needs. I changed it a little and it was one of the best websites I had ever made. But even though the layout was ready, the content was not. I needed to prepare everything I had ever made for my portfolio and that takes a lot of time. Time was something that I did not have. And if I did have some spare time, I would spend it on SNW.
As you may have read in my previous blog post (or on the about me page), I've been suffering from health issues for the past couple of months. Well actually, for 6 months now. And I also discovered that I'm pregnant now. So me being sick at home gives me some free time to catch up on some of my neglected projects, like my portfolio.
I've almost finished the layout. I only need to add a few more (small) things. I'm planning to add a navigation bar on top of the header, with sub items when you hover an item. I'm also adding more photographs in the header. My sweetie ChEeTaH made the random image script. He will probably release the script once I finish his portfolio

FYI: All of the photographs are taken by me, and sometimes they're taken for me.
The content will follow soon. On your left there's the *Blog* section. On this side, most of the (menu) items and links work. I am still working on the *Personal* and *Portfolio* sections. So please be patient for those sections to show up. I might add even more features on this website. But you'll just have to wait and see what's next

For old and new members: I took most of the old blog and turned it into a nice "new" blog, meaning, the existing member accounts from both www.rosana.nu and www.rosana.co.uk are still present. If you have any doubts whether you are in fact already a member or not, please do not hesitate and contact me. I mainly have members who know me personally, so most of the members have my personal mail address