Blogs Development and much much more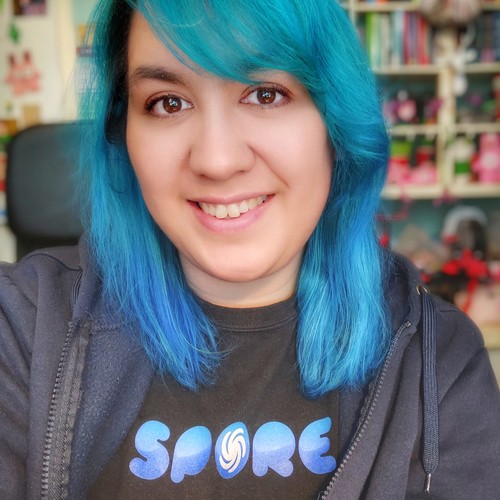 I'm a Dutch designer and artist. I run 2 Etsy shops. On Rosana Kooymans: Art & Design I mostly sell Freezer Bunny plushies and hand drawn illustrations. And on Retro Hugs I sell planner and craft supplies.
I'm crazy about my Filofax and Carpe Diem planners, and I also create custom inserts and stickers for planners.
In my spare time you can find me gaming/creating on SNW. I stream twice a week on Twitch.
I love my geeky hubby and our 3 creative, geeky sons!
On this blog you can find some of my crafty projects (including handmade cards), illustrations, design projects, photography, family life and my health journey. I record the occasional video too, and plan on recording more crafty and planning videos soon. So keep an eye on my blog.
Tuesday, March 18, 2008 - 02:08
I'm currently developing a few new designs for several blogs. The first is for my utterly sweet and cute boyfriend ChEeTaH. He will be using Drupal 6 on his blog very soon. His current blog and design is extremely outdated. Of course I offered a new layout. For me making designs is easy. I don't know why. When I've got a little inspiration, I can go on for days.
The second project I'm working on, is actually this website; portfolio and blog. Back in 2006, I designed the current layout a bit different. I changed it quite a bit. The end result was pleasing enough. But it still isn't good enough. I want it perfect. Perfect for me anyway. So I will be changing some things. I will even bring some 'old' ideas back. You will be seeing them soon enough, as I almost completed the changes.
Junior's blog is currently in Dutch. Whenever ChEeTaH and I go on a trip, for an event (Sims or Spore), we take Junior along. He has been attending the same events since 2006. Junior blogs about his event experiences, usually in Dutch. But it has grown quite a big now and even though we had a nice design before for Junior, I still think it's time for a fresh new blog. It's quite a challenge, so I'm guessing this one will take a bit more time.
The fourth (and probably fifth) design is for Bibi/Seth. We blogged about and for Seth before on Hugs. I will be relaunching that website in two versions. One where we can talk about the things that have happened in our and Seth's life. And another one where Seth can blog. Well, we will blog for him, like we do on Junior's. But you get the idea.
Now, there are a few other websites I'm going to change (extremely) in the near future. SNW always needs attention, whether it's the news, downloads, forums. But SNW also needs a whole lot of changed in the code and design. I have made many new designs in the meantime, but none of them qualified good enough for me. At this very moment, I am working on two new designs. Both of the 'new' designs are basically remakes of previous designs. But I can't say anything more at this point.
Simsplace is a website I basically adopted from someone else who didn't feel like maintaining it anymore. I took this site over in early 2005. And even though I did do my best in keeping it online and running, it is in desperate need of a new look.
My SNW Spore sites also need attention. On one hand, it's a good thing there isn't a whole lot of activity around Spore (yet). It gives me more time to develop a whole new system and design for my Spore sites. I have four Spore fansites, so that's something else that will keep me busy.
Last, but certainly not least is a new SNW theme for the SNWeblogs. I promised a nice theme for the bloggers. However, only a few persons are frequent bloggers. So I will design a nice theme for them first. After that, I will design something for everyone else.