Is Plurk the new Twitter? Part 2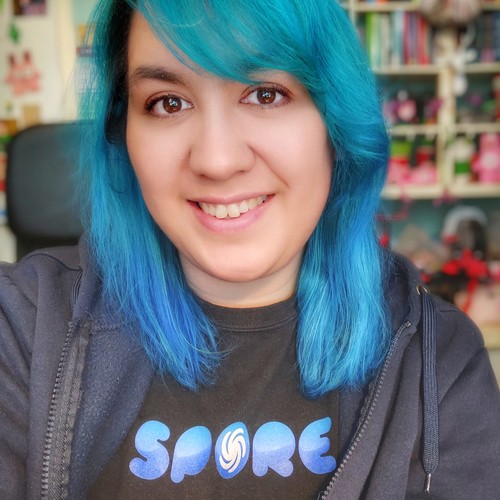 I'm a Dutch designer and artist. I run 2 Etsy shops. On Rosana Kooymans: Art & Design I mostly sell Freezer Bunny plushies and hand drawn illustrations. And on Retro Hugs I sell planner and craft supplies.
I'm crazy about my Filofax and Carpe Diem planners, and I also create custom inserts and stickers for planners.
In my spare time you can find me gaming/creating on SNW. I stream twice a week on Twitch.
I love my geeky hubby and our 3 creative, geeky sons!
On this blog you can find some of my crafty projects (including handmade cards), illustrations, design projects, photography, family life and my health journey. I record the occasional video too, and plan on recording more crafty and planning videos soon. So keep an eye on my blog.
Tuesday, June 3, 2008 - 01:47

Well, I blogged about the "all new" social networking site Plurk yesterday. I was curious to check it out. I am a social networking addict. I like to try everything out. I usually have a beta account before a service launches to the public. But I just found out about Plurk. People on Twitter were talking about it and some even called it the new Twitter. I wasn't happy at all yesterday with Plurk, as you might have read in my previous post. Today I tried the service again. And I will share with you what I experienced today.
Plurk has quite a different timeline than Twitter. Twitter has the newest tweets on the top. Plurk has the newest plurks (not sure what to call them yet) on the left. I myself did not have any trouble adjusting to the timeline. But many people seem to have trouble getting used to the timeline.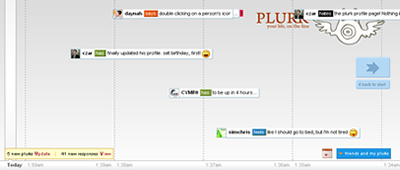 Plurk has the same option 'follow' like you have on Twitter. But on Plurk, you can also add someone as a friend.

Plurk has a very good way to follow conversations, something I often miss on Twitter. I can keep track with older messages on Plurk. Twitter seems very limited and won't even go beyond page 3 or so. When I haven't been able to go online for hours, my timeline on Twitter has grown so big that I have to guess what all my followers were talking about while I was away.
Some people may want to argue with me on what I am about to say. But I actually think Plurk is less messy than FriendFeed. I am no n00b, but I am often having a hard time keeping up on FriendFeed. There's just too much happening in a short amount of time. And it's hard to read back everything. I personally prefer Plurk in this case for the conversations. But maybe everyone has a different feeling about this. I wouldn't blame you. I just feel more comfortable having conversations on Plurk.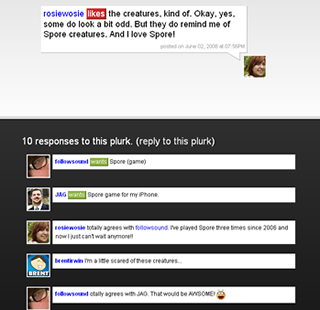 I have mixed feelings for the collapsible/expandable Plurks. I do think it looks nice (neat, tidy). But to hover and click on every one of those Plurks does cost extra time.

Some people find the default creature of Plurk disturbing. I do not know what to think about the default creature (a dog with no head). But I do like most of the other creatures. They really remind me of Spore. Anyone who knows me a bit, knows I am a Spore fan. I mean, I even have a few Spore fansites! Visit SporeNetwork to talk about Spore. I could use some company there! I could also use some team members to help me out a little. I'm usually the only one working on all sites. Anyway, continuing with the subject of Plurk.

The name, well, I think it's an interesting name. I don't hate it. I don't like it either. It's something I won't forget for a while. But overall I think it's a weird name. No offense to whoever has come up with this name.
I love the fact that you can use emoticons on Plurk! I would have been nice to see unique ones. But I don't care that much. The ones you can choose from now are good as well. Doesn't really matter. It's just a fun addition to have which I didn't have on Twitter. I can live without them of course. But it's nice to have.
I love the whole fancy linking. Just typ an url followed by (text or title between parenthesis) and it will show a nice text link in stead of just a plain url.
http://www.plurk.com/user/rosiewosie (Find Rosie on Plurk)
The above code will give you:
Find Rosie on Plurk
Hmmm let's see. I love the fact that we can choose color schemes. But I would have liked to create one myself, like I can on Twitter. I like my own 'styles'. Most designers would like that. I would understand it if you would need some Karma points to do this. But right now I don't think it's possible at all.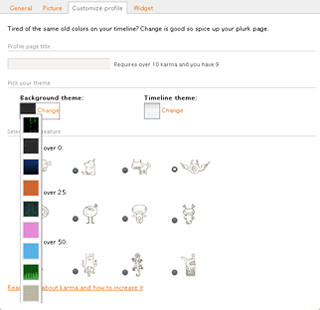 I adore those different colors you see with each verb you can choose. I'd love to see a few additions to the verbs list, like 'can', 'should', 'would', 'could', 'agrees'. Stuff like that. But there's always the freestyle option which you can use for missing verbs. Doesn't have a fancy color though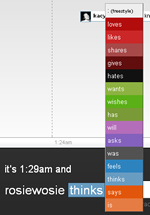 Even though right now I don't have a phone to use for Internet, I do like the fact that Plurk has a mobile site. You can visit it here.

Something I really didn't like it that I invited myself for a group account for a new website I share with some others. I tried inviting myself/us on Plurk. I got the invitation, followed every step and became a member. But for some reason it did not add me as a friend and my invites count wasn't updated either. It's not a matter of time, because it's been hours and when you get invited by someone, you also have an instant friendship. I don't mind that one invitation didn't work properly. But it does show a bug they might want to work on.

I do not like the 'rules' the creators of Plurk have set up. There's a page called 'Safe Plurking habits guide'. I'm sorry. But it's obvious they're taking advantage of the Twitter downtime and server issues. You can expect a bunch of Twitter peeps signing up for this new service. Then don't expect they will use Plurk any different!
I myself only stick to #4, #7, #9 and #10. And #4 doesn't even apply to me if responses also count as Plurks.

I also still dislike the Karma system. I don't want to invite a bunch of people if I'm not sure they want this. And I'm not going to ask each one of them individually either. Like I said in my previous blog post, the Karma system is something that could hold me back.
See, I don't like the fact that I cannot change personal information like my real name, biography, location and relationship until I reach 40 Karma points. That's plain ridiculous! I'd want to know who I'm dealing with on any site, including Plurk. So if people do not have any recognizable information on their Plurk page, I often have a hard time recognizing them. I do recognize most people by their username, but not all.
I do understand that a Karma system is fun for extra benefits like extra creatures, more emoticons, stuff like that. And I don't mind the barrier set to 40 to be able to change your username. But I really hate the fact that I can't tell about who I am until I have spent a whole week Plurking full time. I have contacted the Plurk staff about this. But for some reason I doubt they'll take it serious. I hope they will.
(Edit: I just found out you have to fill in your birthday first in order to be able to edit the rest of your general profile information. Stupid that it's not stated clearly, but it does solve some issues for me and perhaps for others as well!)

For some reason I cannot check my mail accounts through Plurk to see which buddies and friends have joined Plurk without me knowing about it. It just keeps giving errors. Doesn't matter which mail account I use, error after error. It states I have entered incorrect information, like a false password. Well, I don't think so. It's working just fine. Only not through Plurk. Another thing that isn't working for me is checking buddies through IM accounts. I hope this will get fixed soon.

Overall I think Plurk can make a good social networking app. I may not be the most technical person around. But I know what I like. After all, I am a user on that site and they usually know best what they would like to see, right?

It does need some work on widgets though. I'm used to my fancy extended Twitter script with support for own style/colors, a friends timeline, links and user icons. I would like to add a fancy customizable Plurk widget in the near future if I will continue to use it as much.
Another point I'd like to bring up is the lack of support in programs like Twhirl. I would like to see some good apps with support for Plurk, working in both Windows, Mac and Linux. I'm a multi-user and I like my desktops to be similar to one another.

If you're new to Plurk and feel like the standard F.A.Q. page on Plurk doesn't offer you all the answers, this page might bring you some extra information.

Maybe I will post a third post about Plurk. But for now, I think I have explained both my positive and negative experiences here in this post. Feel free to comment!

And don't forget, you can find me on Plurk here as rosiewosie and here as snw (for Sims and Spore updates).