Headaches, Spore, Gallery and then some more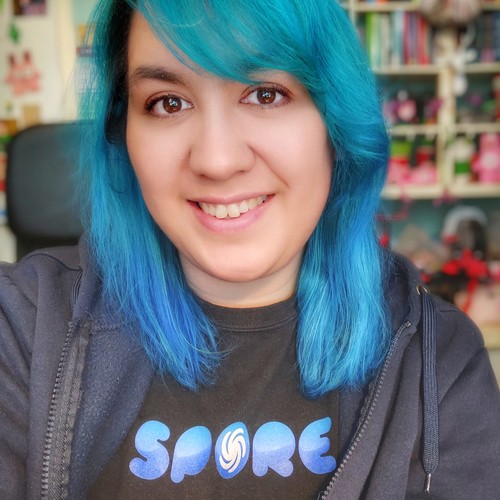 I'm a Dutch designer and artist. I run 2 Etsy shops. On Rosana Kooymans: Art & Design I mostly sell Freezer Bunny plushies and hand drawn illustrations. And on Retro Hugs I sell planner and craft supplies.
I'm crazy about my Filofax and Carpe Diem planners, and I also create custom inserts and stickers for planners.
In my spare time you can find me gaming/creating on SNW. I stream twice a week on Twitch.
I love my geeky hubby and our 3 creative, geeky sons!
On this blog you can find some of my crafty projects (including handmade cards), illustrations, design projects, photography, family life and my health journey. I record the occasional video too, and plan on recording more crafty and planning videos soon. So keep an eye on my blog.
Tuesday, July 15, 2008 - 22:29
I know it has been ages since I blogged. It's not that I didn't want to. I love blogging. But I've been very sick (headaches, I will tell you more about that in this post, continue reading). And I've been busy when I was not sick.
I've been having major headaches for months now. Ever since January 2008 or so, I've been having these awful headaches. I went to see my doctor and he just told me "it's stress". Well, yeah, whoopie. But that doesn't help me one bit. Now he basically says, I can't change anything. If the pain killers won't help, you're on your own. Great.
I've read an article about headaches in our news paper a while ago. After that I began to do some research. And as it turns out, my headaches are a lot like cluster headaches. If you do not know what kind of headache this is, please read the article on Wikipedia. And here is a website specialized in cluster headaches as well. I will go and see my doctor again soon, and I will discuss this. If he won't do anything about it (I want him to send me to a specialist), then I will go and find another doctor who will.
This week I have visited the hospital for some physical (blood and urine) exams and an x-ray photo. I will get the test results tomorrow. I'm pretty nervous. Anyone who knows me a little, knows why I have visited the hospital. I don't feel like talking about it right here, right now. So I just won't.
Spore's Creature Creator has been released for a month now (well, in two days anyway). I have made a ton of creatures. And I will offer more creatures on Sporepedia. But I am still finishing the new website. It's almost finished, however it's not quite done yet. It will launch soon. That's all I will say.
There are a few "secret" projects I am working on, projects for "me". With that I just mean it's non-profit, and not for anyone else. Just a website by me, for me. I can't spill the beans just yet. But one of these new projects will be a very happy project. Expect to hear more in early fall 2008.
Because of the headaches (and many other physical disabilities) I haven't gotten many chances to work on existing websites, including SNW and some others. I am however busy on Fast Finger's website. That one is almost done.
I have two (but possibly three) other new clients who asked for my help with their new websites. And I will be focusing on those for the next couple of weeks. I'm hoping to finish all these new websites before August. Because I planned to work on the new SNW during this entire summer. Until now, I haven't gotten one chance to do so.
I am also happy to announce that my new gallery is almost ready to go live. I'm still finishing up a few minor design things in the css. The problem again is not that it's difficult, it's not difficult at all. It's mainly the lack of time and just me being sick. I decided to use Gallery2 instead of any other (paid) online service. Here are some reasons I decided to start using Gallery(2) again!
I don't like having my pictures elsewhere. If some website or service decided to change their TOS or whatever rules they apply on the content uploaded on their website, I may lose my rights on my own content. They may even abuse their own TOS's in such a way that they are free to use the content I upload for their own purposes (like advertising, or whatever). I just don't like that. When I host my own photos, my own rules (and rights) apply and no one can take those away.
I don't want to pay an (annual) amount of money to be able to upload as many photos as I want
I like to customize and style my gallery. Many online services do not have this option at all. That's fine, but I want something that fits my websites.
I want to be able to customize each "set", "group", "folder" or separate page on my gallery.
I don't get a lot of feedback on my pictures on websites anyway. So it doesn't really matter which website I choose for my pictures. The amount of comments is in general very low (most of the times I don't get a comment at all). There is one website where I can get comments on my pictures (MyShutterSpace) and it's a nice website. But those are mainly real photographers. They don't want to see a whole bunch of family pics for example. And I don't want to bother them.
There is just one website who offers to have a watermark placed on your uploaded pictures, and that is DeviantArt. But it's a DeviantArt watermark. And I want to add different kinds of watermarks on different kinds of pictures.
I want to be able to disable my gallery with one click. With disable I really mean just put it offline for maintenance in a second. None of the websites I know can do this. You can delete everything, sure. But no gallery is capable of disabling something for a while.
I don't want an upload limit for the amount of pictures, not daily, not monthly, not annual.
I don't want an upload limit for the amount of space.
I don't want a bandwidth limit.
I don't want a limit to the amount of sets/folders/pages/groups I have.
I don't want anyone to tell me I cannot upload something because it violates the TOS is any way. I don't think I ever will. But I don't want to worry about that either.
I don't want to sign up on a website using another name than Rosiewosie, Rosie, Rosana or SNW. If it's unavailable, I don't want to become a member.
I want to be able to use (java/php) scripts on my gallery
I don't want to rely on another host or service for my websites (including my gallery). If I host my own gallery, I won't have that problem. If the site would go down, it's my own problem. But at least I would have the means to solve that problem.
I want a gallery with RSS feeds.
I want something to show off on my portfolio.
I want to use my own favicon.
I'd say those are plenty of reasons I should get my own gallery. I won't leave the websites I joined in the past. But when I'm done uploading most of my pictures (or an acceptable amount of them) I will remove some old ones from the other websites (Flickr, DeviantArt, MyShutterSpace, Facebook etc).
I'm also considering to start creating new (custom) templates for Gallery2. I am not one to say that the existing ones are ugly. But they certainly were not something I wanted to use for my own gallery. I can imagine the lack of nice templates for Gallery2 is a reason for some people not to setup their own gallery. You should though, it's awesome software!