Visiting mom, hospital and Sims rants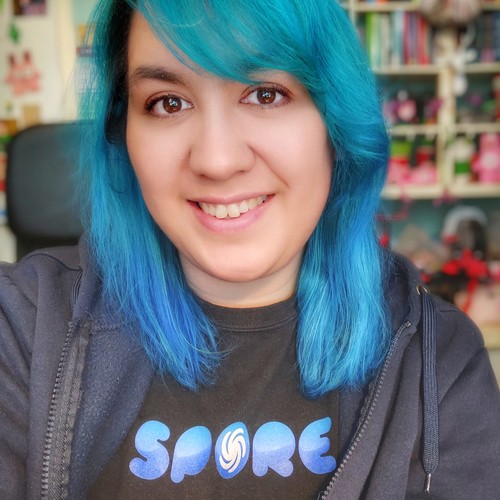 I'm a Dutch designer and artist. I run 2 Etsy shops. On Rosana Kooymans: Art & Design I mostly sell Freezer Bunny plushies and hand drawn illustrations. And on Retro Hugs I sell planner and craft supplies.
I'm crazy about my Filofax and Carpe Diem planners, and I also create custom inserts and stickers for planners.
In my spare time you can find me gaming/creating on SNW. I stream twice a week on Twitch.
I love my geeky hubby and our 3 creative, geeky sons!
On this blog you can find some of my crafty projects (including handmade cards), illustrations, design projects, photography, family life and my health journey. I record the occasional video too, and plan on recording more crafty and planning videos soon. So keep an eye on my blog.
Thursday, July 24, 2008 - 13:42
This isn't going to be one of those average blog posts I have. Well, perhaps it is, a little. But I will be ranting a lot - beware of the work-at-home-mommy.
This weekend my mom is coming over again. During my pregnancy, we had to find ourselves a place to live *really* fast. This was not an easy task. It actually was horrible. Luckily we found something through ChEeTaH's family. Otherwise we wouldn't have had an apartment by the time Seth was born. But we did. And we're happy here.
Thing is, that we kind of had to move away from my family. I know in foreign countries they think we all live next door to each other, because The Netherlands is so small. Well, I still have to travel two full hours to get to my mom. I don't like taking the train with a baby. And buses here are horrible. We do not have a car. Yes, there are people without cars on this planet. We don't have that kind of money. Anyway. It's not an easy task to visit my family. To be honest, the last time I visited my mom was in the summer of 2007, when I was still pregnant and lived in a city near her.
My mom has been visiting me ever since I moved here. She doesn't exactly have a lot of money herself. So she can only drop by once a month, at most. So my mom is visiting this weekend, just a day. We'll cook dinner together. She'll help me sew some curtains (well I already have the curtains hanging on Seth's room, but they're too long). We'll walk a little outside with Seth, near the Meuse and if she can, she'll also go to IKEA for me to get some things I couldn't buy last time. It's something I'm looking forward to. Ever since I gave birth to Seth (which has been 9 months now!) I've only seen 4 of my own family members; my mom, two cousins and an aunt. My mom and one of my cousins come visit me frequently. But the rest of my family members have either just send a card (in which they stated that they planned a visit for Seth's birth), or nothing at all.
I'm just glad my mom visits as often as she can. I'd like to see her more often though. However we can't move back there (too much of a hassle, no money, no transportation etc and we kind of like it here). And she can't come and live closer to us, for the same reasons. Of course there's Internet. But I guess it's pretty normal that any proud grandma would like to see her (grand)children often.
I also visited the hospital today. And I don't have any news. Except for the fact that the internist kind of made me come over for nothing. A phone call would have been good enough. The blood tests, urine tests and x-ray photos all showed nothing to worry about. And now I just have to start eating healthy (I am already eating healthy!) because I can't stay on these medicines forever. I know that too - but that's not a solution. I'm on my own again. I try my very best at becoming a more healthier person. But there isn't really anyone helping me. The fact that I have (severe) constipation problems is something doctors need to take a good look at. It seems I'm all alone again. What's wrong with the health care in this country? I pay a *HUGE* amount of money every month, but for what? I've had it with the doctors. I'm even too tired to rant about it.
Remember the blog post I did a few days ago about the new SNWeblogs themes? Well in the beginning I had the feeling it had been a waste of time. As it turns out, some of my team members are gone and I don't know anything about their whereabouts. I know from certain people what they are doing, because they informed me (and the rest of our team) in our team forums. Apparently not everyone thinks it's a good idea to do so. I am going to clean out our team very soon. If any of you read this, consider yourself warned. If you know you've been neglecting the whole team, including me, but especially the site, I won't put up with this any longer. I'm pretty sick of this. I can't do everything alone. Yet all my team members seem to have vanished. I'm not complaining about those that have informed me. But I am pissed at those that have been gone for months and have done zilch on the sites.
The whole team matter brings me to this following subject: relaxing, having fun, playing some games, perhaps even some Sims. While everyone is having fun with their personal life, their online life and their gaming life, I haven't been enjoying anything lately. I still do enjoy creating websites. However, I wake up in the morning, start working right away until somewhere after midnight, get a few hours of sleep and start again. This is starting to break me. I can't keep this up. I love the work, but I'd like to have some fun sometimes as well! I have fansites to bring people interesting news, forums and downloads. But what's in it for me? I haven't played a game for months now, except a few creatures made in the Creature Creator. I have decided I am going to play Sims very soon.
But I'm a nutcase. I want to have new recolors. So I'm making a few hundred (real amount: somewhere around 1000 recolors+walls/floors) first. I've done most of it already. But I can't play without these items I've had in my mind for a while now. There are some things my son has in real life and I want to make those for my Sims as well - just an example. I made 600+ walls recently and I am going to use those pretty soon!
Not today though. We're being picked up in a few hours for dinner at family. I'm guessing I won't be back before late in the evening - maybe even night time. And since I didn't get a lot of sleep last night - 2 hours to be precise - I'm guessing I will collapse once I get inside the apartment again.
One final rant, DeviantArt and any other online photo/art service. I've uploaded a few nice shots of Seth the other day, as well as some websites to show on the portfolio. Not a single soul responded on the items. This is exactly why I think I can do just fine without those lame online photo services. No one replies anyway. And if you reply on their items (multiple items!) you get maybe one or two comments back.