New website, and some other stuff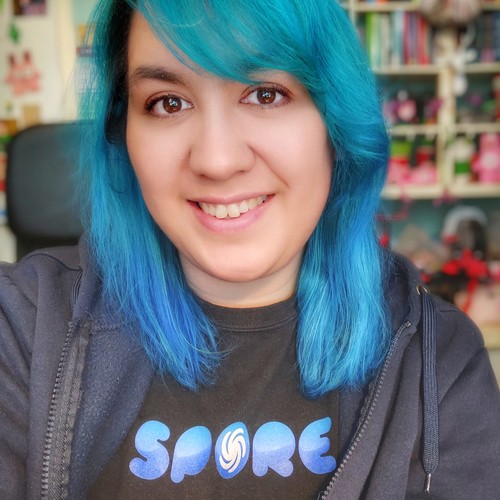 I'm a Dutch designer and artist. I run 2 Etsy shops. On Rosana Kooymans: Art & Design I mostly sell Freezer Bunny plushies and hand drawn illustrations. And on Retro Hugs I sell planner and craft supplies.
I'm crazy about my Filofax and Carpe Diem planners, and I also create custom inserts and stickers for planners.
In my spare time you can find me gaming/creating on SNW. I stream twice a week on Twitch.
I love my geeky hubby and our 3 creative, geeky sons!
On this blog you can find some of my crafty projects (including handmade cards), illustrations, design projects, photography, family life and my health journey. I record the occasional video too, and plan on recording more crafty and planning videos soon. So keep an eye on my blog.
Wednesday, September 3, 2008 - 23:40
I've been offline for a long time. This was mostly because my HDD (the 500GB I bought as a birthday present back in February) gave up on me and acted all weird. I got BSOD's, the HDD made funny noises (ticking noises, not good), it made my PC sooooooooooooo slooooooooow. I could save my important stuff. But I do not even want to think about what could have happened if I would not have bought a new one. I couldn't exactly afford it, financially. However I considered this to be quite an important issue, so we decided to buy a new one anyway. Now I've got 1TB instead of the 500GB. I will be sending the 500GB back one of these days, hoping they can either fix it or send me a new one.
The important thing though is that I am finally back. But not entirely (yet).
I kept quiet for a while, even though I've been back for some days now. In the beginning of August, we had an event in Amsterdam for The Sims 2 Apartment Life. It was a lot of fun, but exhausting for me personally. After the event, I spend my entire weekend on two extensive, in-depth previews. People loved them afaik, but they did cause me to spend my days and nights on them, without taking breaks, without having normal meals and sleep in between. Ironically enough the game has been released and I've written awesome previews, yet I haven't gotten the game myself yet. No time, but more importantly, no money either.

Well, after the previews, my HDD pretty much died on me. It did work but it kept getting more messed up each minute. Then, when we finally had some money to order a new one, it suddenly was out of stock (the website didn't say it was, so we ordered it, and ended up having to wait for our money back - a week or so). We ordered another one, from another store. A different HDD as well, as the one I had in mind wasn't available anymore. So I've been back for a week or so? I installed most of the applications I need by now.
In some ways I am finished and ready to go online again. You know, answering mails, being on my websites (and more importantly, working on my websites), moderating other sites, create and upload downloads and so on.
But I can't, yet.
Last week I was invited to go to a Spore event in Brussels. Too bad I couldn't make it there. Traveling there would have been too expensive. It was either traveling there and not being able to buy Spore's Galactic Edition or well, not going there and instead having the Galactic Edition. The latter was my best option. You see, I would have liked to do an interview. But I already played Spore several times in the past two years. Waiting another week wouldn't be so bad.
Because of the time I couldn't really use my PC properly, I was way behind on the websites I was working on (websites for clients, not my own projects). So the past week I have been busy with some websites. I will be posting some the next couple of weeks. But I can show you one I finished today! It's a Dutch site though. That shouldn't matter though, it's about the website, not its content.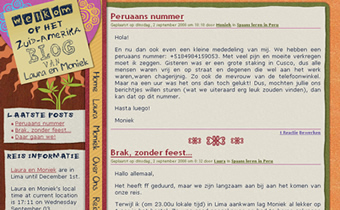 The website is valid XHTML strict, CSS 2.1 and CSS 3.
Tomorrow is such an important day for me. Spore will be released officially on September 4, 2008 in The Netherlands. Some people were able to get their copy today, pre-ordered the regular Spore, not the Galactic Edition. We called in to see whether or not ours was there yet, and it was, but they didn't have the list of names yet. So we're going there tomorrow.
I should also warn my frequent visitors that I might be offline for a while the next couple of days. After 1,5 month without (cluster?) headaches, the pain is returning. And that's not a good thing at all. If this continues, I won't be able to work, relax, play, (fill in some normal activity here) at all the next couple of weeks.
That reminds me of my doctor. I may have found another doctor who may just be right for me. I had some chats with people who work in the health sector and they gave me tips of some doctors. Now, with my headaches returning, I see many reasons to switch doctors.
Last but not least I wanted to let you all know that my cat (Snowy) has been sick for some time now. We're unsure what's wrong. We visited the vet a couple of times and gave him meds and special food. It seems that he is doing better now, but still not completely recovered from whatever got him sick in the first place. I will keep you informed if anything should change.