A white winter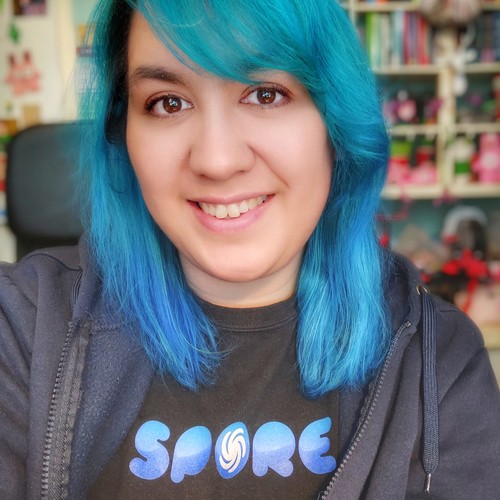 I'm a Dutch designer and artist. I run 2 Etsy shops. On Rosana Kooymans: Art & Design I mostly sell Freezer Bunny plushies and hand drawn illustrations. And on Retro Hugs I sell planner and craft supplies.
I'm crazy about my Filofax and Carpe Diem planners, and I also create custom inserts and stickers for planners.
In my spare time you can find me gaming/creating on SNW. I stream twice a week on Twitch.
I love my geeky hubby and our 3 creative, geeky sons!
On this blog you can find some of my crafty projects (including handmade cards), illustrations, design projects, photography, family life and my health journey. I record the occasional video too, and plan on recording more crafty and planning videos soon. So keep an eye on my blog.
Monday, November 24, 2008 - 14:21
Officially it isn't even winter yet, but we did get some snow yesterday! If only we'd have snow during Christmas. Seems like that never happens. No, we in The Netherlands get snow in November. Sometimes even in March...
Just a month ago we were walking outside and noticed how the leafs of practically each tree were falling down, or were already gone. With this snow, which is already melting again as I'm writing this, we feel like putting up our Christmas tree already. I'm a huge Christmas person. So is ChEeTaH. We like to have our tree up for months, a whole season if possible!
During the Christmas week, we'll be traveling down to my mom's. I'm looking forward to that. We don't have a lot of money to spend on gifts this year, but at least we'll get to spend time together. I already planned dinner for each day that week. I'm going to have to make my famous chocolate mousse. Let's not forget corn chowder, cheese puff pastries and cheese fondue! Oh, I can't wait

We already bought Seth's Christmas present. In our tiny cold little country, we also celebrate Sinterklaas in the beginning of December. That's actually the same thing as Christmas. Just read on Wikipedia. Christmas as it's known in the US is basically Sinterklaas taken out of proportions. I love Christmas more, because of the tree, the family time and the food. Sinterklaas is all about the children, whereas Christmas is about the whole family. We haven't gotten Seth a Sinterklaas present yet. The Sinterklaas tradition starts in November, when Sinterklaas arrives on his steam boat with all his "Black Petes" who all help him with all the presents for all the kids. From the moment Sinterklaas has arrived in The Netherlands, kids place one of their own shoes somewhere in the house in the evening, every day. Then, when they go to bed, Sinterklaas will add candy or a present in the shoe. Some kids get candy, but others get gifts. The big day really is on December 5. During the night, Sinterklaas will bring the larger and more expensive gifts to the children. The next morning, kids will wake up and be overwhelmed with new toys and games. That's basically the tradition of Sinterklaas. And Christmas was/is based on Sinterklaas, but most people just don't know that.
Our Christmas presents will be some new parts for our PC's. Except for my HDD's, TFT, keyboard, mouse and DVD drive, I will have everything new. My PC worked great in 2003/2004. Since I work on this PC each and every day, creating and designing as my job, I need it to be fast and reliable. In my spare time, I also use this PC for gaming and such. And it's getting slower and more annoying each time I use it. My old PC will be used as a storage system for tv shows, movies and music. The stuff I don't necessarily want on my PC, but also would like to watch or listen to every once in a while.
I finally have MySims on my PC. It's all very nice, but it seems none of my friends own it? So now I can't exchange essences with anyone. I will get back on that subject soon.
I am currently working on a few more projects. Two more are practically online, but not officially. I will post these projects as soon as they are open to the public. But my work on those particular projects is done, thus I have moved on to a few other projects. If all goes well, you will see three more new projects appear on my portfolio before 2009.
I haven't posted any pictures in a long time. This is mainly because I'm busy. But it's not just that. The Canon camera is starting to act up. With each picture, it has a purple-ish border on the top of the picture. That's really annoying. We won't be buying a new camera anytime soon. Got to save up for some new furniture first