Miss Design portfolio changes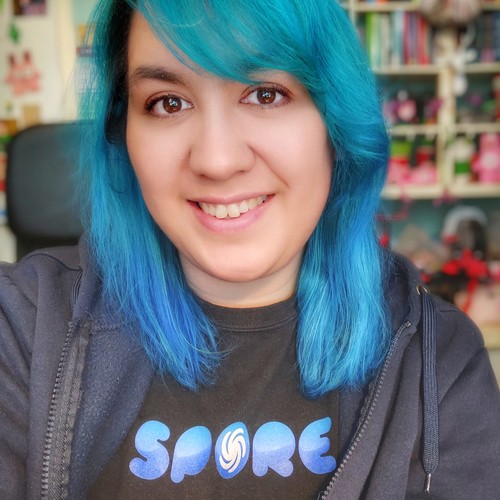 I'm a Dutch designer and artist. I run 2 Etsy shops. On Rosana Kooymans: Art & Design I mostly sell Freezer Bunny plushies and hand drawn illustrations. And on Retro Hugs I sell planner and craft supplies.
I'm crazy about my Filofax and Carpe Diem planners, and I also create custom inserts and stickers for planners.
In my spare time you can find me gaming/creating on SNW. I stream twice a week on Twitch.
I love my geeky hubby and our 3 creative, geeky sons!
On this blog you can find some of my crafty projects (including handmade cards), illustrations, design projects, photography, family life and my health journey. I record the occasional video too, and plan on recording more crafty and planning videos soon. So keep an eye on my blog.
Tuesday, October 6, 2009 - 10:21
Every year I try to change my portfolio to improve it, better looking and user friendly. I've already changed the design this year but I felt it was time again for some changes since I added quite a few things to my portfolio this year. Below is a overview of the first version until the version you can see now and all the changes I made.
You should know that I'm so happy with the colors and styles which I barely changed since 2006. I did however change the layout itself quite a few times. I started out in April 2006 with two equally sized sidebars and the content in the middle, a header on top with photos in it. This version never made it online but I worked on it for quite some time to make it perfect.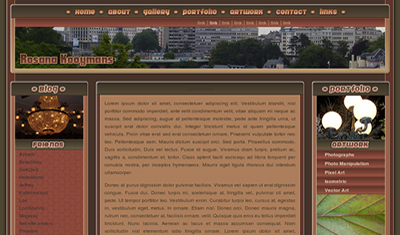 The version after that, was the first one to actually be seen live on my blog. It launched in September 2006, when I was just in college. This version got three sidebars, fairly small ones. One left sidebar, then the content, then two more small sidebars on the right. It looked cluttered but I loved it so I could live with it. This version still had a header with pictures, but the photos were smaller and I added a picture of myself so people would know whose website they were visiting.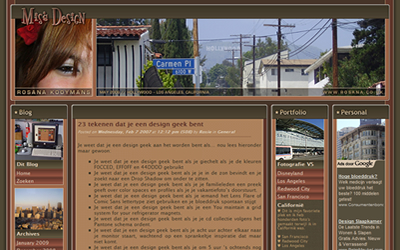 In 2007, I kept my design untouched, I was pregnant and busy taking care of my personal life. But in 2008 I slowly started to make a comeback and I did indeed redesign my portfolio. Same colors, same styles, but quite some changes. I removed the two sidebars on the right and replaced it with a wider version. This opened up a lot of opportunities like a nice Twitter block showing mine and other people's Tweets. Other changes in this design were the picture of me, I also changed the dimensions, meaning I also needed to adjust all the photographs used in my header. Other changes included a whole new top navigation which made it possible for me to remove the clutter in my sidebars. The small banner in the sidebar was replaced with a wide version right below the header. I also added a promotional banner showing some of my own designs.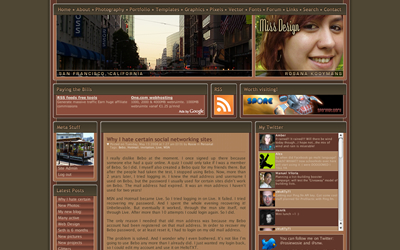 In 2009 I changed my portfolio again. Unfortunately I had to disable the nice Twitter block because it was too heavy to load, Twitter was often experiencing downtime so that messed up my own website's loading time and of course I didn't want that! I also changed the top navigation. I realized I had too many menu items I didn't use yet and I didn't have time to fill all my pages. So instead I changed the menu until I had more pages done. I added promo blocks on the right side so people would see my latest website and my latest artwork.
I didn't think I would change my design again this year, but I did. The second version of 2009 is now done. I changed the menu again, slightly. I removed the Search button as people were not really using it, and I needed some space for a Themes button as I started sharing Wordpress and Drupal themes with the public and those should be easy to find.
I removed the middle section below the header, containing a Google banner, promotional banner with my own projects in it and the RSS button. It was taking up too much space and I liked the idea of having the content just a little higher up the page. If people come across a non-existing page, they still get the option to use my Search page.
On the right sidebar I added a Hire Me section, where people can read about my services and contact me if necessary. And then there's the Traditional Art block, showing my paintings and drawings, a Photography block with one of my (randomly chosen) photos, a Wordpress Themes block, as well as a Drupal Themes block. I removed the Current Desktop section. It's nice but I'm trying to show off more of my work and less fun stuff. I added a Wishlist section for those people who would like to thank me for my work.
On the left sidebar I removed the Meta block (where you login). I disabled registration because of the many spam registrations (I don't have time to check for spammers every day and there weren't any real people signing up anyway). So only existing accounts can login. And that can still be done, I moved the login to the footer. I changed the Team & Friends block to just Friends. Most of my team members are not using their SNWeblog at all and I don't feel like linking to terribly inactive blogs. I will add more friends in the future. I also changed the My Websites block. I changed the text links into nice images. I'm pretty sure it looks a bit cluttered but it will be easier for people to recognize the types of websites I added there. And I actually love it like this!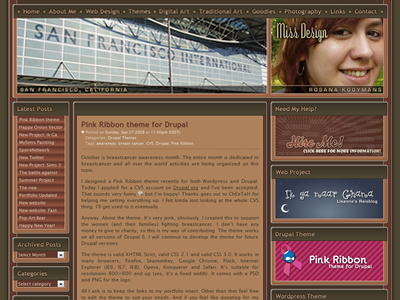 I'm pretty sure I will change it again in the future. I will continue to adjust it to suit my needs and hopefully make it better for the visitor as well.