Gallery, neighbors, autumn and more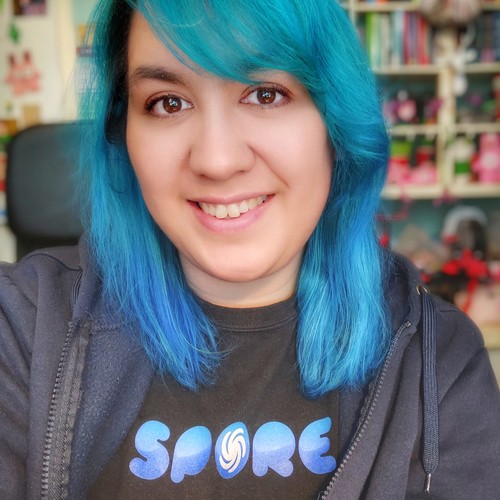 I'm a Dutch designer and artist. I run 2 Etsy shops. On Rosana Kooymans: Art & Design I mostly sell Freezer Bunny plushies and hand drawn illustrations. And on Retro Hugs I sell planner and craft supplies.
I'm crazy about my Filofax and Carpe Diem planners, and I also create custom inserts and stickers for planners.
In my spare time you can find me gaming/creating on SNW. I stream twice a week on Twitch.
I love my geeky hubby and our 3 creative, geeky sons!
On this blog you can find some of my crafty projects (including handmade cards), illustrations, design projects, photography, family life and my health journey. I record the occasional video too, and plan on recording more crafty and planning videos soon. So keep an eye on my blog.
Wednesday, November 11, 2009 - 16:36
Both ChEeTaH and Paul blogged yesterday, and I haven't done this myself in a while. I just forgot and was busy, as usual. I will keep this blog post short, I don't feel like spending another hour on writing when I should be working.
First a quick note to tell you I uploaded pictures of Seth cuddling Junior (so incredibly cute) and Seth attending Sint Maarten (St. Martin's Day). You can view the pictures on my gallery, just click the photograph below. You will need to login in order to see the pictures of Seth. I don't feel like uploading all of my son's pictures out in the open. If people are really interested in seeing them, they can sign up and sign in. Once they have signed up, I will check who it is and approve the membership.
The main reason for the lack of updates is that I have neighbors. Nothing weird about that you would say. But mine constantly play loud music. And others are drilling and hammering. It's not only during the day. It's also at night, in the middle of the night. I'm so fed up with this, I don't even have the energy to talk about it here. Let's just say we have tried everything possible to make them stop. But they are really being very rude and inconsiderate. We've tried to be friendly and we called the police. We contacted our landlord and he said we need to call the police. We have done this several times already but no luck. They seem to believe us but nothing changes about the situation. We haven't seen the police. So we have the feeling they haven't bothered to show up at our neighbors doorsteps.
It's autumn and even though I love the colors of all the trees, it also means my depression gets stronger. I don't quite care if people think depression is a state of mind, I know I can't help it. I didn't ask for this. But it makes things harder. You don't want to get up, you don't want to eat, you don't want to work, you don't even have the energy to relax and play. My second problem is that I'm a workaholic. So I really have issues with myself in a time like this. Because I want to work so bad, but I don't have any energy. Or I'm so emotional all I can do is cry. Some days are better, some are worse. All I know is that I need to take things slow right now.

So now I end up playing lots of addicting Facebook games. It seems my loved ones don't mind at all. I like the games I'm playing. They keep my mind off of my neighbors at times.
I was supposed to write a review about MySims Agents on Wii last month. But I haven't succeeded doing this so far. I'm very happy to say ChEeTaH has offered to write it. I personally believe he's a better writer anyway. My reviews are usually filled with facts, but I can't seem to make it a nice review.
Paul promised to write the MySims Agents on DS review and he did. He sent it to me yesterday and can now be seen at MySimsNetwork! Thank you Paul. I really appreciate your effort. Sometimes I feel just so alone on my fansites but some team members really make a difference for me, and keep me going.
MacDesperate will probably launch soon. I'm done with the design and ChEeTaH is still working on some (scripts) things. I'm guessing we will launch the website in December or so? If not, it will look nice on my Portfolio 2010 page

I've also been working on my future scrapbooking supplies website. I will be offering free and paid (digital) scrapbooking sets. I have put this project on hold because I promised Patricia to design her blog.
I'm also working very hard on SimsNetwork and SimsNetwerk. I hope to launch these new sites around New Year. Sooner is not an option. It's not that we're not working on it, but we're just extremely busy and it's a lot of work. You have no idea. It's fun to work on. But it's time consuming. If I can, I work from very early in the morning (7-ish) until midnight. It's very hard to keep this up combined with taking care of your son 6,5 days a week.
Something that doesn't help is the lack of activity on the current SNW. I understand we have less visitors because I'm not uploading any downloads at the moment. But the old members have also moved away to other (befriended) fansites. And even though I'm not angry at the other fansites, it still stings because I try so hard, but usually I'm just alone. Sometimes it really feels like other fansites are stealing my members. It may sound ridiculous, until it happens to you. There's a lot more going on right now. Not all things I can talk about in public. But I feel left out, alone, depressed. I try to fight this but it's really hard. Especially when it seems no one really understands you. And I'm not talking about being depressed, but the issues that are bothering me.
Next week I will have a chat meeting with some of the team members. Some haven't bothered to RSVP yet but I am not going to keep asking them to reply. If they don't want to, fine. But that's one of the things I will be discussing with my other team members. I'm pretty fed up with team members who are never online. I will discuss it with team members first to see what they have to say about it. But after that, I think I may end up removing some team members from our team. What's the use of team members who are never there anyway?!
We have some financial issues at times. We try to save money, but end up needing it for something unexpected every time. I planned to save for a new DSLR camera this year. I love photography but can't really do a lot with the current cameras anymore. I also would like to save for a MacBook Pro, so I can work on location. I may end up having a bit of extra money soon to save for these items but it will still take a few years, at least, to complete the goal.
I will update and write again soon. I will upload Powerful Pink soon (previously known as Pink Ribbon theme), for Drupal and Wordpress. And I have made some pics of my recent paintings. I'm proud of most of them so I would like to show them on my portfolio as well.